Ford's latest MK8 Fiesta ST had a tough act to follow when taking over from the much loved MK7 ST but by combining some of the brilliant lairiness of the MK7, with a tad more maturity and sophistication, Ford has created a premium product for the masses, appealing to a wider demographic.
After the successful release of PFF19-2222 Lower Torque Mount for the MK8 ST, we received a number of enquiries for more bushes and more inserts, and so we have duly obliged with the release of a range of new suspension bushes, powertrain inserts and a Handling Pack.
PFF19-2201 Front Arm Front Bush is made using our stiffest Black 95A material, reducing lateral movement of the wishbone.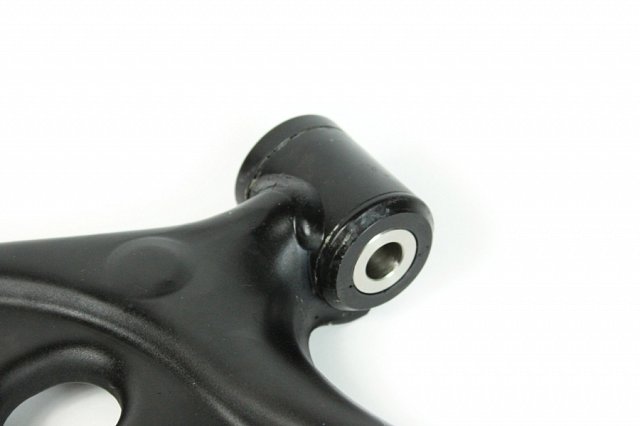 PFF19-2201G Front Arm Front Bush Camber Adjust is made using the same Black 95A material and features a machined stainless steel sleeve and spanner, allowing for up to +/- 0.5° of camber adjustment to fine-tune the setup for road or track use.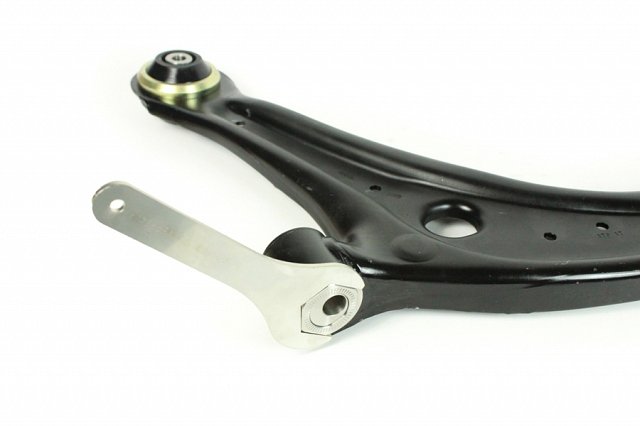 PFF19-2202 Front Arm Rear Bush uses a CNCmachined and plated mild steel shell and our Black 95A bush with a tapered bore design to allow for articulation, whilst improving steering precision and braking stability.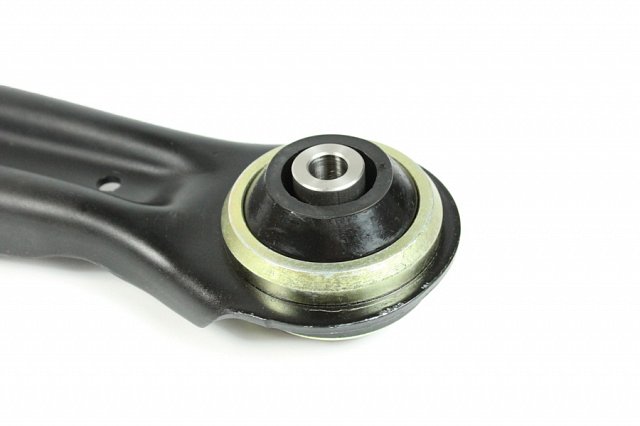 PFF19-2202GBLK Front Arm Rear Bush Caster Adjust has been designed around our unique on-car adjustable Nylon/Polyurethane Ball-Joint combination for more direct steering input and improved cornering and braking. The offset bore allows for +/- 0.5-1.0° of caster adjustment with the supplied spanner, to assist the fine-tuning of the side-to-side caster settings. Vertical stiffness is increased by 250% over standard rubber.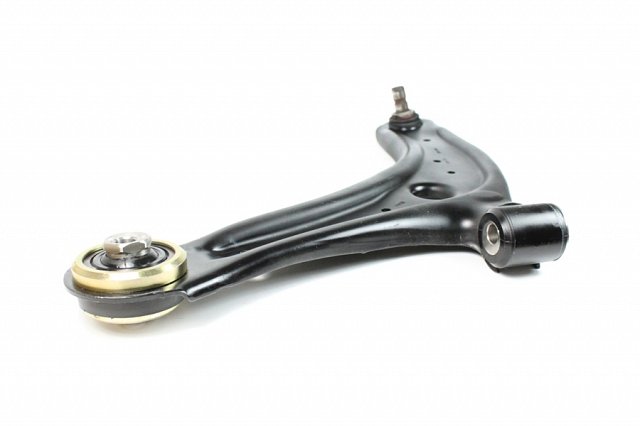 PFR19-2210 Rear Beam Mounting Bush is made using our Purple 80A material to replace the soft rubber bushes, improving rear-end stability and handling.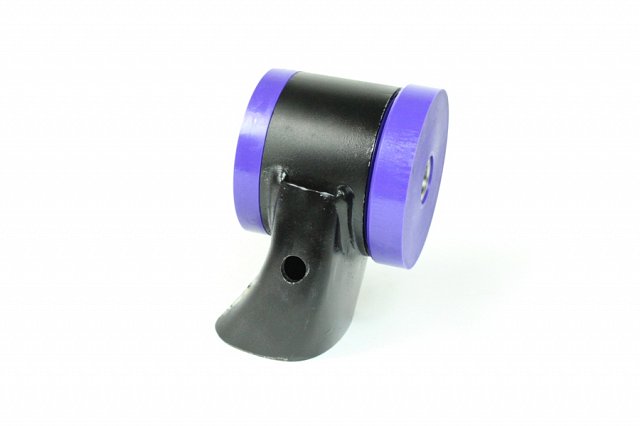 PFF19-2230 Upper Gearbox Mount Insert and PFF19-2240 Upper Engine Mount Insert are made from our Yellow 70A material and work by stiffening the OEM mounts reducing the amount of engine/trans roll during hard acceleration and gear changing for a more responsive feel. They can be fitted individually, or as a set for ultimate engine control.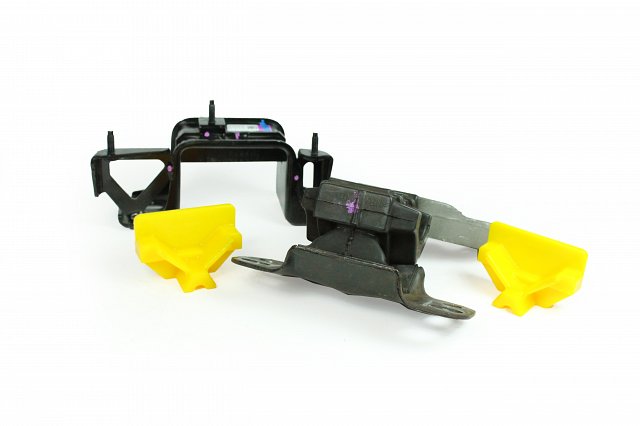 A small increase in NVH, usually at idle, should be expected when stiffening the connecting mount between the engine/transmission and chassis. The harder the material used, the greater the NVH transmitted.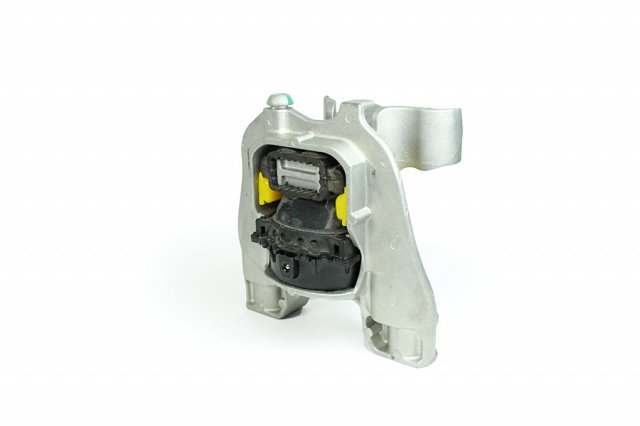 For those who want no compromise, ultimate performance for the track or motorsport, the powertrain mount inserts are also available in our Black Series 95A Durometer material.
PF19K-1006 Handling Pack contains bushes that have been specifically selected to give the perfect combination of value versus performance with a price saving over buying the parts individually.
This includes;
PFF19-2201 Front Arm Front Bush
PFF19-2202 Front Arm Rear Bush
PFR19-2210 Rear Beam Mounting Bush
PFF19-2224 Lower Torque Mount Insert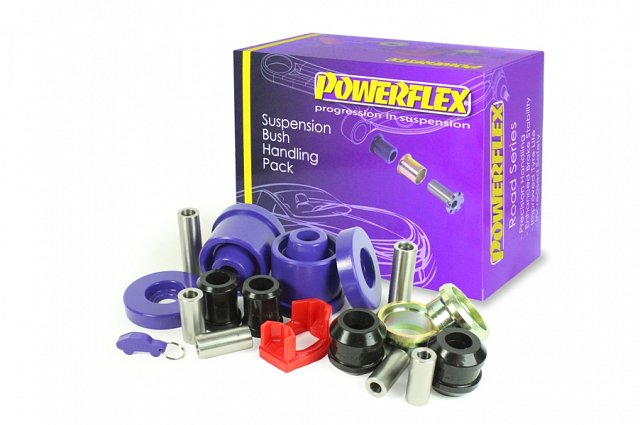 All of our parts come with the added peace of mind of our unrivalled Lifetime Warranty.
Recent Posts
The Ford Transit and Transit Custom have become synonymous with practicality, comfort & no-nonse …

The cross-platform Toyota GT86 / Subaru BRZ / Scion FRS has been around for a while now, nearly 10 y …

Despite being the baby of the Renault family, the Twingo II RS is still very much deserving of the R …